Pottery
Port Isaac, North Cornwall, UK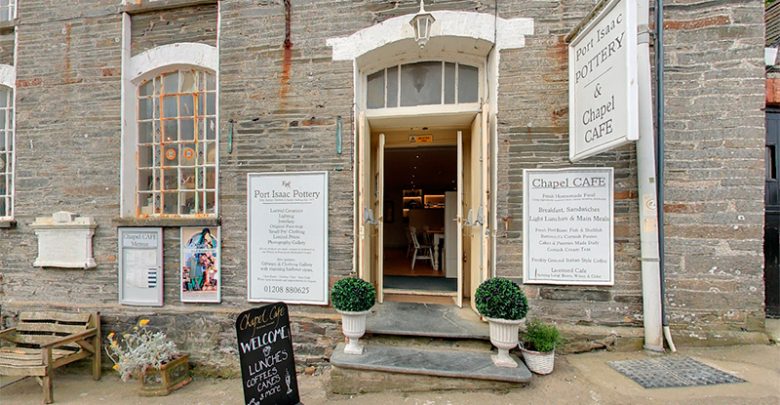 If you are in Port Isaac and looking for something a bit more special than beautiful photos and memories, consider visiting Port Isaac Pottery. This unique place with a bustling atmosphere is situated just 3 doors away from famous Martin's front door. Here you will be able to find lovely handmade pottery inspired by the North Cornwall coastline, beautiful paintings, porcelain jewelry, exclusively designed baby and toddler clothing and award-winning, inspirational photography. In other words, Port Isaac Pottery offers a lot of lovely items other than pots, and a cup of tea or coffee, as well as a good selection of cakes, are on offer too.
All of the pieces you see in Port Isaac Pottery are handmade to the highest standards. Bill and Barbara Hawkins, owners of the pottery and talented artists, are proud of the high quality of their work. Each unique piece decorated with precious metal lustres and gold has at least three firings made both in electric and gas-fired kilns. Pottery is also complimented with watercolor-style decoration inspired by the small harbour, the fish, and the local flora and fauna.
If you are interested in paintings or porcelain jewelry, you will be able to find an expanding range created by Barbara Hawkins. Works of the rest of the family are also included: handmade ceramics and clothing range created by Faye Hawkins, upstairs gallery created by Jo Hawkins, and, of course, Pottery and Stoneware Gallery created by Billy Hawkins. Join Port Isaac Pottery's visual tour on the website to feel the charm of this wonderful place.
The best thing about Port Isaac Pottery is that owning a piece of art made by members of Hawkins family will make you remember your fun days in the charming Cornish village every time you see it. So if you are looking for an outstanding piece of unique design and finish, Port Isaac Pottery is the right place. Come and enjoy!